MTPlants is the Montana Department of Agriculture's online one-stop-shop for licensing, registration, e-payments and other ag-related services.
---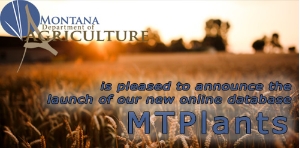 You will be able to print your license(s) and product renewals after successful completion of the payment process and anytime throughout the year.
To get started, you will need to create an ePass Montana account for accessing the MTPlants online database. ePass is the State of Montana's secure authentication solution for eGovernment services. An ePass Montana account is easy to obtain at no cost. Instructions for creating an ePass account, registering your MTPlants account, and navigating through MTPlants can be found below. Once you have registered, you'll only need to use your ePass User ID and password to access your MTPlants account at any time in the future.
MTPlants also allows the public to view all currently registered pet food and specialty pet food products, and all licensed Feed, Fertilizer, and Seed companies.
If you have any questions, want additional information, or need any assistance through this process, please contact us at csb-mtplants@mt.gov or (406) 444-3730.
You are not required to use the new database system and are still able to submit paper renewals and assessments. If that is your preference, please allow up to 3 weeks for your paper application to be processed, and your license(s) will be mailed via the United States Postal Service.
Click here to view MTPlants instructional videos on the MDA YouTube channel.
MTPlants Documents
Contact