Welcome to the Montana Department of Agriculture!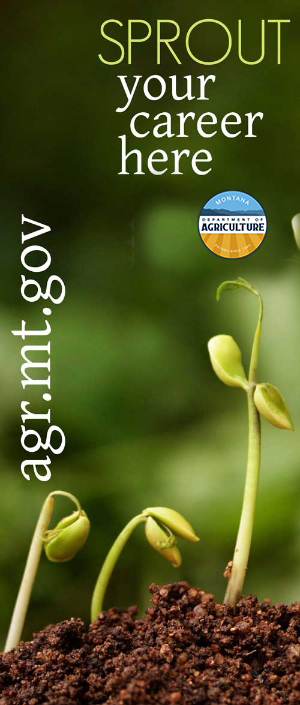 The Montana Department of Agriculture is currently accepting applications for the following open positions:
Agricultural Technician (Plentywood)
License Grain Inspector (Plentywood)
Seasonal Organic Inspectors (Chinook, Malta, Hinsdale, Glendive, or Havre areas)
To view and apply for all current State of Montana openings, visit the State of Montana Careers website.  

Our Human Resource staff is available to answer any questions you may have regarding your application or any part of our recruitment process. See contact information on this page.
For more information, or refer to the Recruitment and Selection tab or the Internship tab below. For more information on how to apply for jobs please refer to the State of Montana Employment Candidate User Guide.
The Department of Agriculture is an Equal Opportunity Employer. For more information please refer to the Affirmative Action Plan.
Application and Selection Process

The process used to evaluate an applicant's qualifications may include an evaluation of the State of Montana Employment Application and supplemental responses if required, a performance test or work sample, a structured interview, and reference or background checks.
The Screening Process
Job listings for State of Montana vacancies are highly competitive. As mentioned earlier, agencies utilize a screening process to review and evaluate the applicant's qualifications. Information provided on the state application and, if required, the responses to the supplemental questions are used to determine which applicants will advance to the next step in the selection process.
Agency staffs evaluate each application, responses to supplemental questions, and any performance tests for training and experience as it relates to the job. Applicants, whose experience and training/education most closely match the position, continue in the selection process.
The Interview
Interviews are most commonly conducted in person. A telephone interview may be arranged under special circumstances. A telephone interview may be followed by a second, face-to-face interview. During an interview, the applicant is asked structured, objective, job-related questions. Interviews may have written and oral components. Each interview panel has rating criteria and suggested responses to evaluate the applicant's responses.
Other Selection Procedures
The position may require a performance test or work sample. Examples include: researching a job-related issue and giving a presentation, preparing written or oral responses to situational problems, using job-related equipment, or submitting work samples.
Reference Checks
Reference checks provide the hiring authority an opportunity to confirm information provided by the applicant. Calls or written requests are made to the applicant's current or previous supervisor(s). On the state application, you may request notification before your current employer is contacted.
Internships
The Montana Department of Agriculture offers a variety of internships for students enrolled in an accredited college or university. This includes all public, private, community, vo-tech and Native American institutions of higher learning. Most internships occur during the months of April to September. The length varies, depending on the project that needs to be completed and the time frame required. Positions are located statewide.
Most are paid positions. Interns must secure their own housing and transportation to the work site. Student interns must have a valid drivers license to drive a state vehicle.
Announcements can be found below when positions are available.
No positions currently available. Contact Human Resources if you would like to be notified when internship positions become available in the future .
2016 Marketing Intern Cody Shick: In His Own Words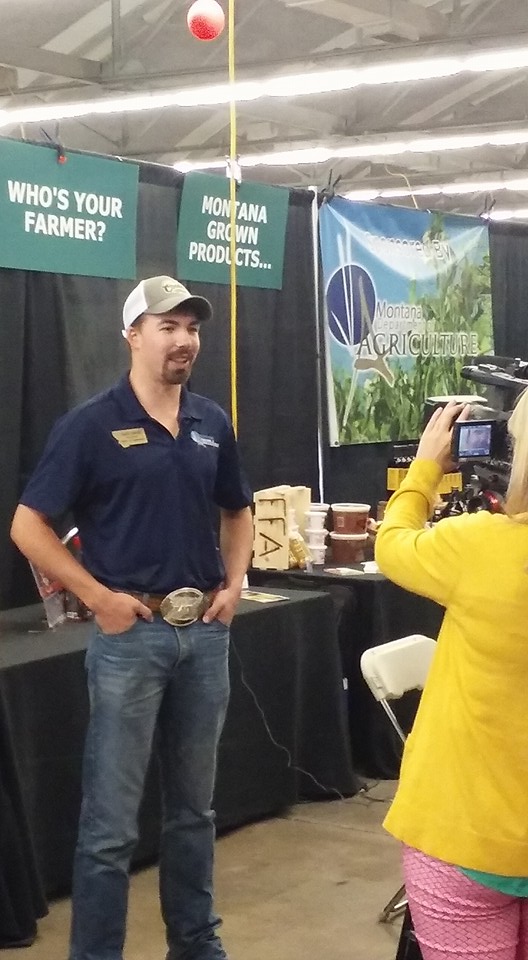 This summer I was incredibly fortunate to serve as a Marketing Intern with the Montana Department of Agriculture. I was in charge of putting together the first ever Grown in Montana Store for the State Fair in Great Falls. It was an idea with a purpose of promoting small businesses that used Montana grown crops as ingredients for their products. There were no previous attempts at a project like this, so I leaned on the people around me for advice and did the best I could. Luckily, things fell into place without too much difficulty. I ended up recruiting 18 companies to participate with over 50 different products. With help from the staff surrounding me, the store was a successful start for what I hope will be continued long into the future.
Coordinating the Grown In Montana Store was my main responsibility; however, I also was able to help with many other projects in the Marketing Bureau. I was able to attend the Innovate Montana Conference in Billings, the Cherry Festival in Polson, and I was also able to attend a tour with European pulse buyers in the Great Falls area. I met so many people throughout the summer and I have significantly expanded my network as I head into my sophomore year at Montana State University. The Montana Department of Agriculture is represented by some truly amazing people and I was so privileged to play a small part in advocating for Montana agriculture.
---
Comments From 2013 Marketing Interns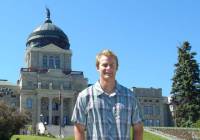 Mike Siegersman assists the International Marketing Officer in marketing Montana's value-added ag products to foreign countries. His duties include conducting research on targeted markets, planning inbound trade missions and exporting seminars, and providing Montana companies with information on exporting products.
"I enjoy working for the department because of all the friendly and helpful people I get to work with, who do their best for Montana's agricultural industries," he says. "I am motivated by a great resume-building opportunity and the chance to help food and agricultural companies be profitable and expand their businesses."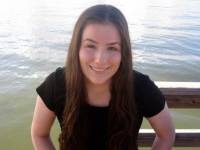 Natalie Griffin assists staff in outreach and promotional efforts of the Agricultural Marketing & Business Development Bureau. Her position includes researching and interviewing successful businesses to develop press releases, marketing materials and other content for multiple media channels.
"Working at the department has taught me more than I could have imagined about the state's agriculture-related businesses and how government agencies provide support to businesses," Natalie says. "The experiences I've had speaking with business owners will be very valuable for my future career, especially if I have the opportunity to start my own business."
---
Contact