Groundwater Monitoring for Pesticides and Nitrate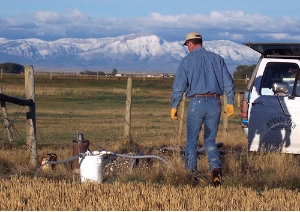 The Groundwater Protection Program has two primary objectives: (1) determine whether residues of agricultural chemicals are present in groundwater, and (2) where possible, determine the likelihood of an agricultural chemical to enter groundwater.
We complete our first objective through maintaining a network of permanent monitoring wells that are sampled at least twice annually. Samples are analyzed for agricultural chemicals by the Department's Analytical Lab. The results are maintained in a database, analyzed to identify trends, and compared with Montana Numeric Water Quality Standards in Circular DEQ-7.
For the second object, we focus on both permanent monitoring wells and short-duration regional-scaled special projects to compare detections of agricultural chemicals across an aquifer or geographic region with general water quality parameters and relevant spatial data. We attempt to identify correlations between agricultural chemical detections with the water quality parameters and spatial data to determine which parameters influence the likelihood of an agricultural chemical to enter groundwater. We then extrapolate from our monitoring points to generalize the likelihood of agricultural chemicals to enter groundwater across the study areas, based on spatial data trends.
Groundwater News
Contact