Noxious Weed Free Materials Forage Required on Public Lands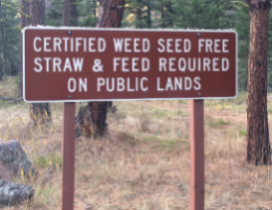 Noxious weeds have a destructive impact on Montana's landscape, displacing native plant species, increasing soil erosion, and decreasing wildlife habitat as well as compromising recreational values. Preventing the spread of noxious weeds into our pristine back country is vital. Certified noxious weed seed free forage is required when horses or pack animals are used on public land in Montana. Government agencies and public utilities also are required to use weed free mulches, bedding materials and erosion control barriers in their work.
How can YOU help reduce the spread of noxious weeds?
Feed ride and pack animals certified NWSFF hay at least three days prior to going on county, state or federal lands to ensure any previously consumed weed seeds pass through the animal while transitioning over to the weed free hay.
Use certified NWSFF hay and straw for 4-H and rodeo events at county fairgrounds. National Forest Service, Bureau of Land Management, and State lands require the use of certified forage and each bale or bag of feed must have an approved NWSFF marker (twine, tags, or label). Know before you GO!
BUY SMART! Choose certified NWSFF hay or straw for use on your own property. This helps prevent the spread of noxious weeds along with SAVING yourself money in the future on weed control efforts. Once a noxious weed population is established, controlling it can be expensive and develop into a long term battle to reach eradication.
Montana Rules & Code: Noxious Weed Free Materials
Contact