MSU is experiencing known network issues that may impact links provided on our site.
Once the network issues have been resolved the links will be restored.
Please check periodically to see if the issue has been resolved. Thank you.
You can find more information here.
Who is protected by the Worker Protection Standards?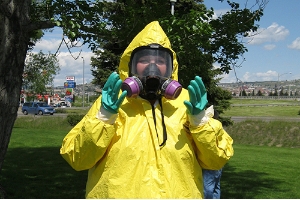 The WPS protects employees on farms, forests, nurseries and greenhouses from occupational exposure to agricultural pesticides and covers two types of employees:
Pesticide handlers - those who:
mix, load or apply agricultural pesticides;
clean or repair pesticide application equipment; or
assist with the application of pesticides.
Agricultural workers - those who perform tasks related to growing and harvesting plants on farms or in greenhouses, nurseries or forests.
Workers include anyone employed for any type of compensation (including self-employed) doing tasks such as:
carrying nursery stock;
repotting plants;
watering; or
other tasks directly related to the production of agricultural plants on an agricultural establishment.
Workers do NOT include employees such as:
office employees;
truck drivers;
mechanic; and
any other workers not engaged in worker/handler activities.
Some requirements apply to anyone doing certain tasks, such as handling pesticide application equipment or cleaning or laundering pesticide-contaminated personal protective equipment.
WPS Training Resources
Pesticide Poisoning Information
For information on how to handle a pesticide poisoning, call the National Pesticide Information Center at 800-858-7378 (toll-free to any caller in the United States, Puerto Rico, or the Virgin Islands) .
Some symptoms of pesticide poisoning can be mistaken for symptoms of other illnesses, such as the flu. When pesticide handlers become ill from working with organophosphate or carbamate insecticides in warm and hot environments, it is sometimes hard to tell whether the person is suffering from heat exhaustion or pesticide poisoning. The table below compares the symptoms.
Symptoms of Heat Exhaustion vs Pesticide Poisoning
Symptoms 

 

Symptoms of Heat Exhaustion
Symptoms of Organophosphate/Carbamate (Pesticide) Poisoning
Sweating
Sweating
Headache
Headache
Fatigue
Fatigue
Dry membranes
Moist membranes
Dry mouth
Salivation
No tears
Tears
No spit present
Spit present in mouth
Fast pulse (slow if person has fainted)
Slow pulse
Nausea
Nausea and diarrhea
Dilated pupils
Possibly small pupils
Central nervous system depression
Central nervous system depression
Loss of coordination
Loss of coordination
Confusion
Confusion
Fainting (prompt recovery)
Coma (can't waken)
Related Links
Contacts