Noxious weeds have a destructive impact on Montana's landscape by displacing native plant species, increasing soil erosion, and decreasing wildlife habitat and recreational opportunities. Rangeland, pastureland, cropland, forests, and wildlands cover 92 million acres, 98% of the total land area, in Montana. These lands are vital for agricultural production and protecting the integrity of ecosystems.
The Department's Noxious Weed Programs offer resources and assistance with the management of state- and county-listed noxious weeds.
The Noxious Weed Trust Fund Grant Program is a reimbursable grant program, providing up to $75,000 per grant. Grant awards assist counties, landowners, local communities, researchers, and educators.
The Noxious Weed Seed Free Forage certification program provides inspections and certification of forage products such as hay, pellets, and straw.
---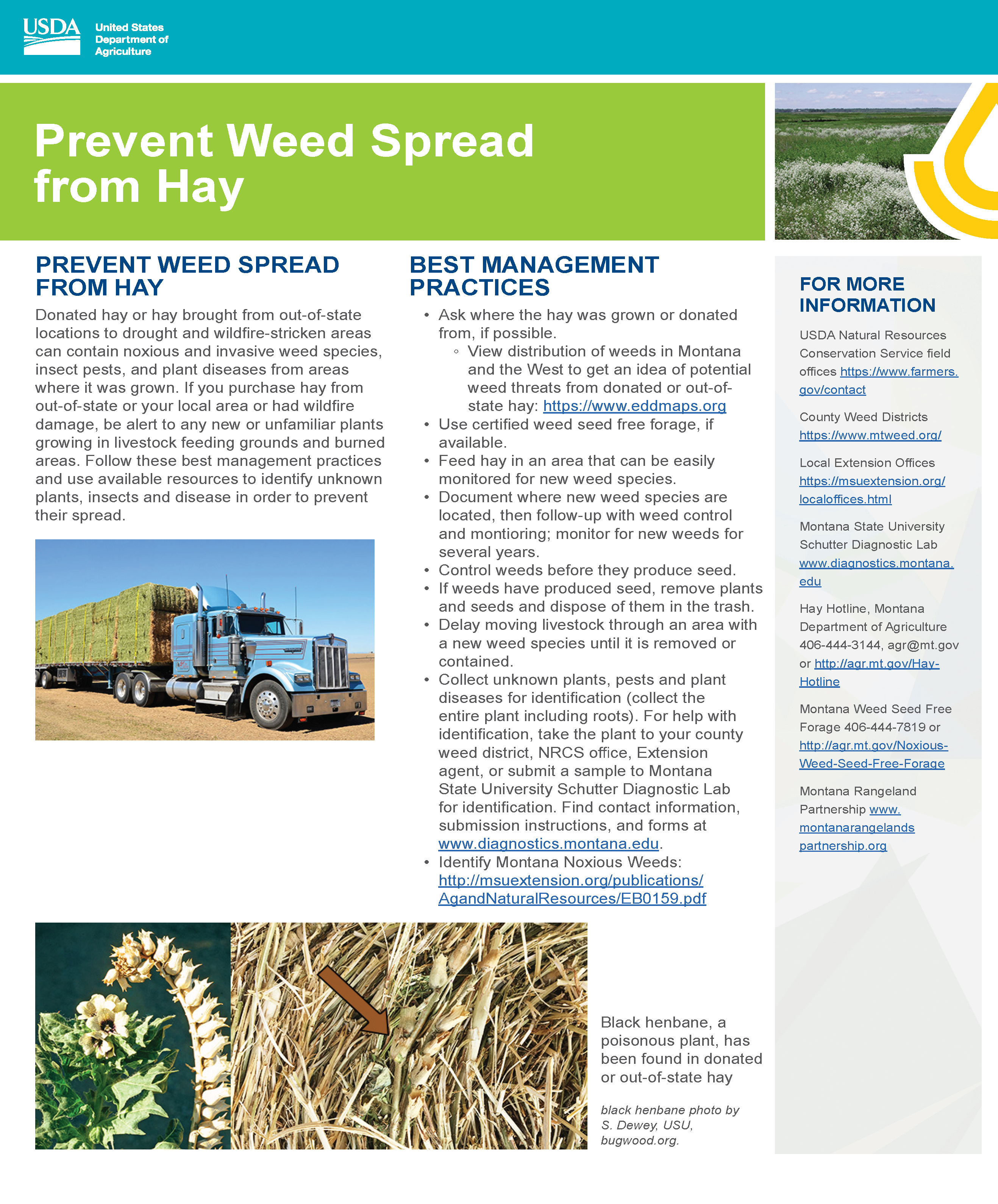 As Montana agricultural producers strive to find adequate feed for livestock during severe drought conditions and a damaging wildfire season, the Montana Department of Agriculture encourages producers to follow guidance and utilize available resources for out-of-state shipments of hay to prevent the spread of noxious weeds and other invasive pests.
The MDA Noxious Weed Program is available to assist producers in their decision to use hay from out of state. Please contact Jasmine Chaffee, 406-444-3140, for more information.
---
**NEWS**  
Petition cycle open for new weeds to list on MT Noxious Weed List
Statewide Noxious Weed Coordination
The State Noxious Weed Coordinator submits regular Noxious Weed Coordination Reports to the Montana Environmental Quality Council (EQC). Recent reports are available to download below.
---
Noxious Weeds News
Contacts
Jasmine Chaffee
State Weed Coordinator
Phone: (406) 444-3140
E-mail: JChaffee@mt.gov
---
Andrew Lam
Noxious Weed Free Materials Coordinator
Phone: (406) 444-7819
E-mail: andrew.lam@mt.gov
---
Greta Dige
NWTF Grant Coordinator
Phone: (406) 444-7882
E-mail: Greta.Dige@mt.gov
---
Events
No events are currently scheduled.