MDA Spotlights Butte Value-Added Ag Business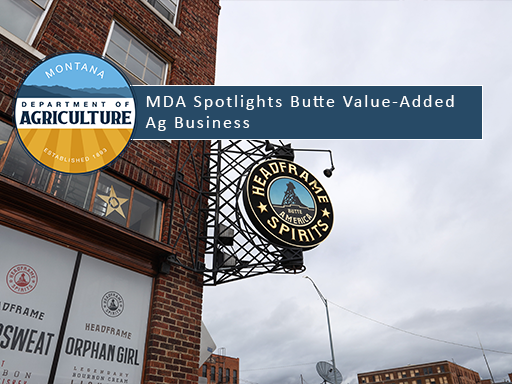 Logan Kruse
October 06 2023
CONTACT:
Logan Kruse, Montana Department of Agriculture, (406) 444-3684
Montana Department of Agriculture Spotlights Butte Value-Added Ag Business
BUTTE, Mont. — Director Clark and representatives from the Montana Department of Agriculture (MDA) continued the Value-Added Ag Tour yesterday where they spotlighted Butte's own, Headframe Spirits, and their commendable efforts in adding value to Montana's agricultural ecosystem and largest industry.
Headframe Spirits was started in 2012 by founder John McKee and has become known around the state and beyond for their popular made in Montana spirits. In 2014 and 2015, John and his wife Courtney were named Entrepreneurs and Ambassadors of the Year by Governor Bullock. Since then, Headframe Spirits has continued to push the envelope when it comes to distilling high-quality spirits.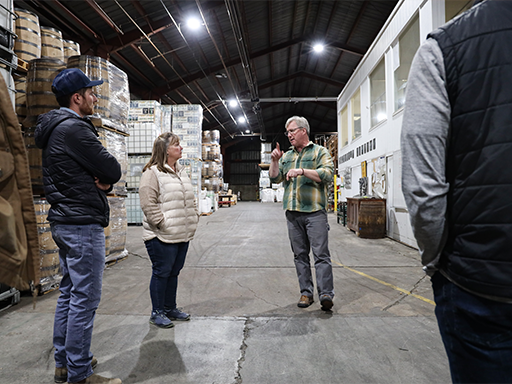 Headframe Spirits, Owner and Founder, John McKee, chats with Director Clark and Deputy Director Coccoli
Along with being a certified B-Corp, Headframe boasts spirits that are made from 100% Montana grain. John and his team have made a point to focus on giving back to their community all while maintaining 33 employees. Whether it's giving back grain biproduct to local ranchers for cattle feed, or donating over $334,000 back to the public, Headframe is conscientious of their footprint and their community.
Part of their success thus far has been thanks to the diversification of the business. Along with making renowned spirits, Headframe has a manufacturing arm of their business that builds continuous flow custom distilling equipment. Everything from equipment to consulting to customization and training is provided by Headframe Spirits Manufacturing. John mentioned that being a company centered around agriculture, it has been vital to be located close to some of the best ingredients (barley) in the world. "It's great to be able to work with our farmers that just happen to grow some of the best grain in the world, but we need to tell the grain story. Let's get the story out about the quality of grain that our farmers grow and produce here in Montana," said John.
"Headframe is a Montana value added success story. They have expanded their offerings, created unique products and now share their knowledge by offering distilling equipment to others who want to make a go in the distilling world," said Director Clark. "We appreciate their pride in sourcing all the ingredients they can from Montana and making sure that's noted on all their labels as well."
Montana continues to be one of the nation's leaders in grain production. This year, Montana is seeing the largest barley crop that we have seen this century with 49.7 million bushels.
The Montana Department of Agriculture is serving Montana Agriculture and growing prosperity under the Big Sky. For more information on department programs and services, visit agr.mt.gov.
###
---
Tags: Value-Added Agriculture and Growth Through Agriculture