MDA Recognizes Montgomery Distillery for "Farm to Glass" Spirits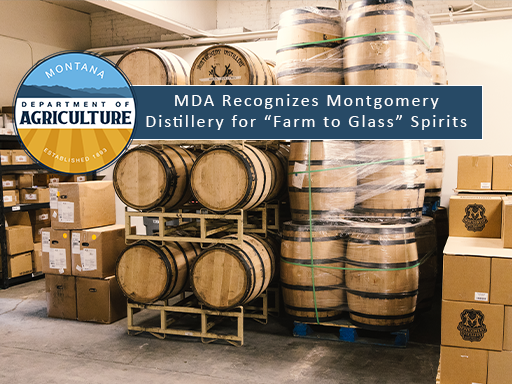 Logan Kruse
April 20 2023
CONTACT:
Logan Kruse, Montana Department of Agriculture, (406) 444-3684
MDA Recognizes Montgomery Distillery for "Farm to Glass" Spirits
MISSOULA, Mont. — Continuing the focus on expanding value-added agriculture opportunities to allow producers to capture more of the value they create, Director Clark and representatives from the Montana Department of Agriculture visited Montgomery Distillery in Missoula, Montana to highlight their use of family grown Montana grain, friendly atmosphere, and their focus on small batch high quality spirits.
"We strive to highlight and celebrate those Montana businesses that are modeling innovative and creative practices to add value to their product as well as Montana agriculture. It is very impressive what Montgomery Distillery has accomplished thus far. They continue to add value to a family based ag business with Montana roots 5 generations deep," Director Clark said.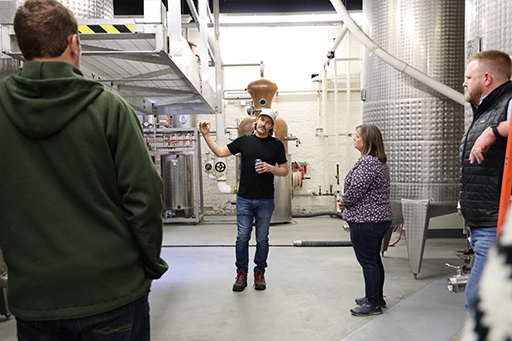 Director Clark hears from Ryan Montgomery, owner, and distiller at Montgomery Distillery
Montgomery Distillery (Missoula, MT) was established in 2012. Their family farm in Heath, Montana has been in the family going on 90 years. It sits at the geographical center of the state on one of the largest spring creeks in Montana, an ambling trout stream which also irrigates their wheat and rye. Along with sourcing local Montana grain, Montgomery Distillery boasts being one of the few distilleries in the state to use 100% Montana ingredients in many of their spirits.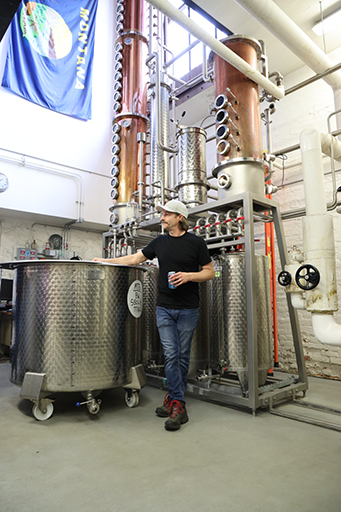 Ryan Montgomery speaks on their bourbon process
"I commend Montgomery Distillery for their passion to not only agriculture, but producing a high-quality Montana product," said Director Clark.
The Montana Department of Agriculture applauds Montgomery Distillery on their success thus far and wishes them the best in 2023.
The Montana Department of Agriculture is serving Montana Agriculture and growing prosperity under the Big Sky. For more information on department programs and services, visit agr.mt.gov.
###
---
Tags: Value-Added Agriculture, Grants and Growth Through Agriculture