Montana Department of Agriculture Highlights Bitterroot Value-Added Ag Businesses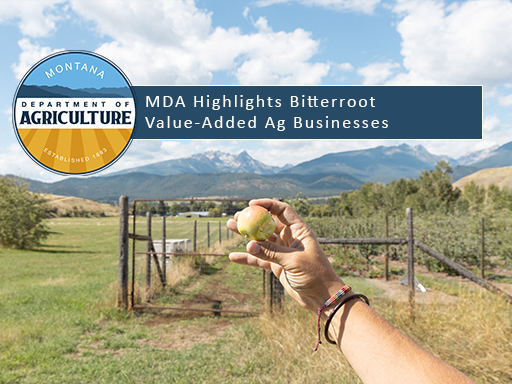 Logan Kruse
September 07 2023
CONTACT:
Logan Kruse, Montana Department of Agriculture, (406) 444-3684
Montana Department of Agriculture Highlights Bitterroot Value-Added Ag Businesses
BITTERROOT VALLEY, Mont. — Director Clark and representatives from the Montana Department of Agriculture (MDA) headed to the Bitterroot Valley yesterday to continue their focus on highlighting the diversity in Montana's agricultural ecosystem where they visited Montana Ciderworks in Darby and Hidden Legend Winery in Victor as part of the MDA's value-added ag tour.
Montana Ciderworks was started in 2002 by founder and owner Lee McAlpine. Since, the cidery has become known around the state and beyond for their English-style ciders and as "Montana's oldest cidery". After working as a firefighter in Montana's Bitterroot Valley, Lee saw the opportunity to create a value-added product specifically with the McIntosh apple variety. While Montana Ciderworks products can be found in many local shops and on tap across Montana, the cidery has created a name for itself through winning countless awards and intentional accolades in the cider industry.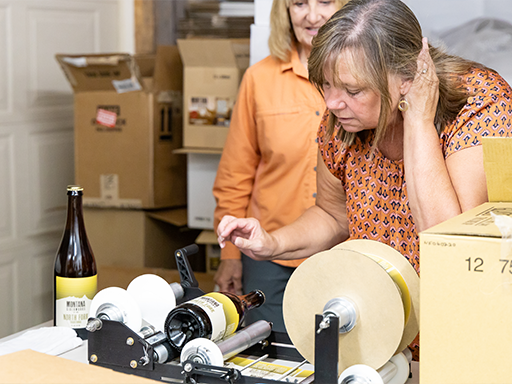 Montana Ciderworks founder/owner, Lee McAlpine, looks on as Director Clark hand labels a bottle of Cider
While in the Bitterroot Valley, Director Clark visited Hidden Legend Winery in Victor, Montana. Hidden Legend Winery is owned by Ken Schultz who has been perfecting his craft for handmade mead since 1979. "Mead is the father of all other alcoholic beverages," said Ken. "It predates beer and wine."
At its core, mead is simply made by fermenting honey with water. The craft comes in when grains, spices, fruits, and sometimes hops are added to the recipe to create a unique taste specific to the maker. At Hidden Legend Winery, they strive to use natural and local ingredients such as honey, tart chokecherries, huckleberries, apples, and more to produce a flavor profile like none other. "We get our honey from up in Arlee at Arlee Apiaries and we'll use around 60,000 lbs. of their honey a year to produce our mead." Along with working with distributors to place Hidden Legend Mead around craft beer shops and wineries throughout Montana, Ken and his team also run a direct-to-consumer online store that gives them presence in 42 different states.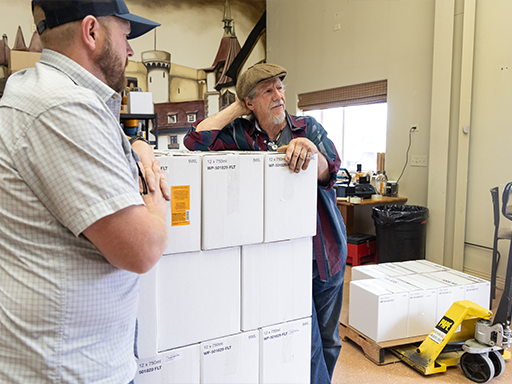 Hidden Legend Winery founder/owner, Ken Schultz, talks with representatives from the MDA
Director Clark and representatives from the MDA had the opportunity to see Hidden Legend Winery's process from start to finish as well as talk about current challenges, plans for the future, and new flavor offerings that are gaining popularity.
"It takes passion to run a small business. Let alone a small business in rural Montana," said Montana Department of Agriculture Director Christy Clark. "From these small value-added ag businesses in the Bitterroot to the large commodity operations in the golden triangle or out east, its amazing to see how each operation, big or small, serves as a vital puzzle piece to the diverse agricultural ecosystem that drives Montana's number one industry."  
The Montana Department of Agriculture is serving Montana Agriculture and growing prosperity under the Big Sky. For more information on department programs and services, visit agr.mt.gov.
###
---
Tags: Value-Added Agriculture and Growth Through Agriculture