MDA Highlights Argentine Cattle Trade Delegation and Local Distillery in Big Fork, Montana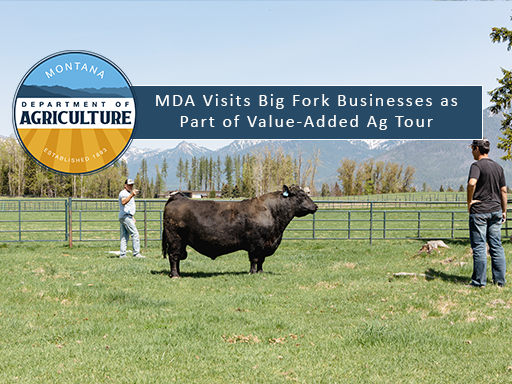 CONTACT:
Logan Kruse, Montana Department of Agriculture, (406) 444-3684
MDA Highlights Argentine Cattle Trade Delegation and
Local Distillery in Big Fork, Montana
BIG FORK, Mont. — Continuing the focus on expanding value-added agriculture opportunities and highlighting the diversity in Montana's agricultural ecosystem, Director Clark and representatives from the Montana Department of Agriculture took to Big Fork, Montana where they visited Whistling Andy Distillery and the Montana Ranch to highlight their impact on Montana agriculture as well as welcome a trade team delegation of cattle producers from Argentina.
Whistling Andy Distillery, located just off HWY 35 in Big Fork, opened its doors on New Year's Day in 2010, marking the opening of Montana's oldest operational distillery. Whistling Andy boasts some of Montana's finest handcrafted spirits using select local grains, local cherries, and true first cut cane sugar. Their spirits start only a couple miles down the road where they source their grains from family farms to get the process running. Along with priding themselves on their "Grain to Glass" capabilities, Whistling Andy also uses age old recipes and unique new blends derived from what's in season to create innovative spirits that set them apart from the rest.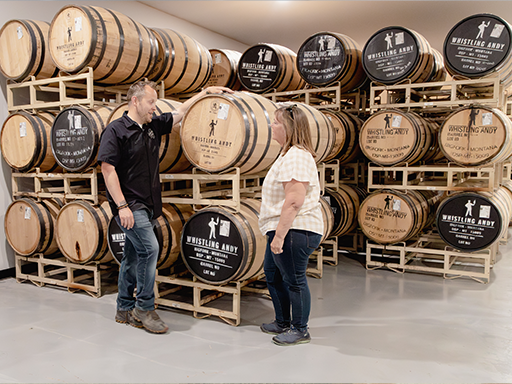 Director Clark hears from Gabe Spencer, Head Distiller at Whistling Andy Distillery
"It's Montana Small Business Week and with 99% of Montana businesses being small businesses, I am honored to highlight Whistling Andy Distillery. Due to the innovation, entrepreneurial spirit, local impact, and passion for creating a fine product, Whistling Andy has been able to set themselves apart, achieve international recognition, and add value to the agricultural ecosystem here in Montana," Director Clark said.
The Montana Department of Agriculture congratulates Whistling Andy Distillery on their accolades thus far and wishes them the best in 2023.
While in Big Fork, Director Clark welcomed cattle producers from Argentina to Big Fork's Montana Ranch, who have been touring the state as part of a Montana Department of Agriculture Cattle Genetics Trade Mission.
"Livestock producers from Argentina are very progressive. They find that the high-quality Montana beef cattle genetics they can find throughout Montana fit well into their operations. Montana Ranch's passion for genetic advancement and existing program was an excellent exhibition of the quality that comes out of Montana," Director Clark said.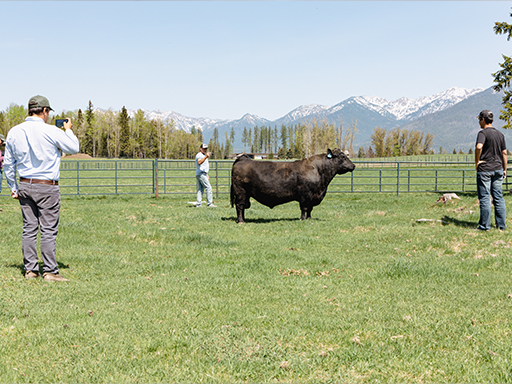 Cattle Producers from Argentina view a sire from the Montana Ranch
The Montana Ranch is located at the base of the Swan Mountains in the Flathead Valley just northeast of Flathead Lake in Northwest Montana. The breeding program at Montana Ranch is directed and driven by hard data stemming directly from real world ranches, feedlots and packing houses. "Proven Maternal Function; Proven Reproductive Efficiency; Proven Structural Soundness; Proven Convenience Traits; Proven Calving Ease; Proven Optimum Growth; and Proven End Product Merit, are all trademarks of the foundation cow families in the Montana Ranch genetic program."
Thank you to both the Montana Ranch and Whistling Andy Distillery for having us and giving us a view of agricultural businesses here in Montana that add value to the ag ecosystem that drives the state's number one industry.
The Montana Department of Agriculture is serving Montana Agriculture and growing prosperity under the Big Sky. For more information on department programs and services, visit agr.mt.gov.
###
---
Tags: Trade Mission, Value-Added Agriculture, Cattle Genetics and Growth Through Agriculture