MSU is experiencing known network issues that may impact links provided on our site.
Once the network issues have been resolved the links will be restored.
Please check periodically to see if the issue has been resolved. Thank you.
You can find more information here.
Best Management Practices to Prevent Weed Spread from Hay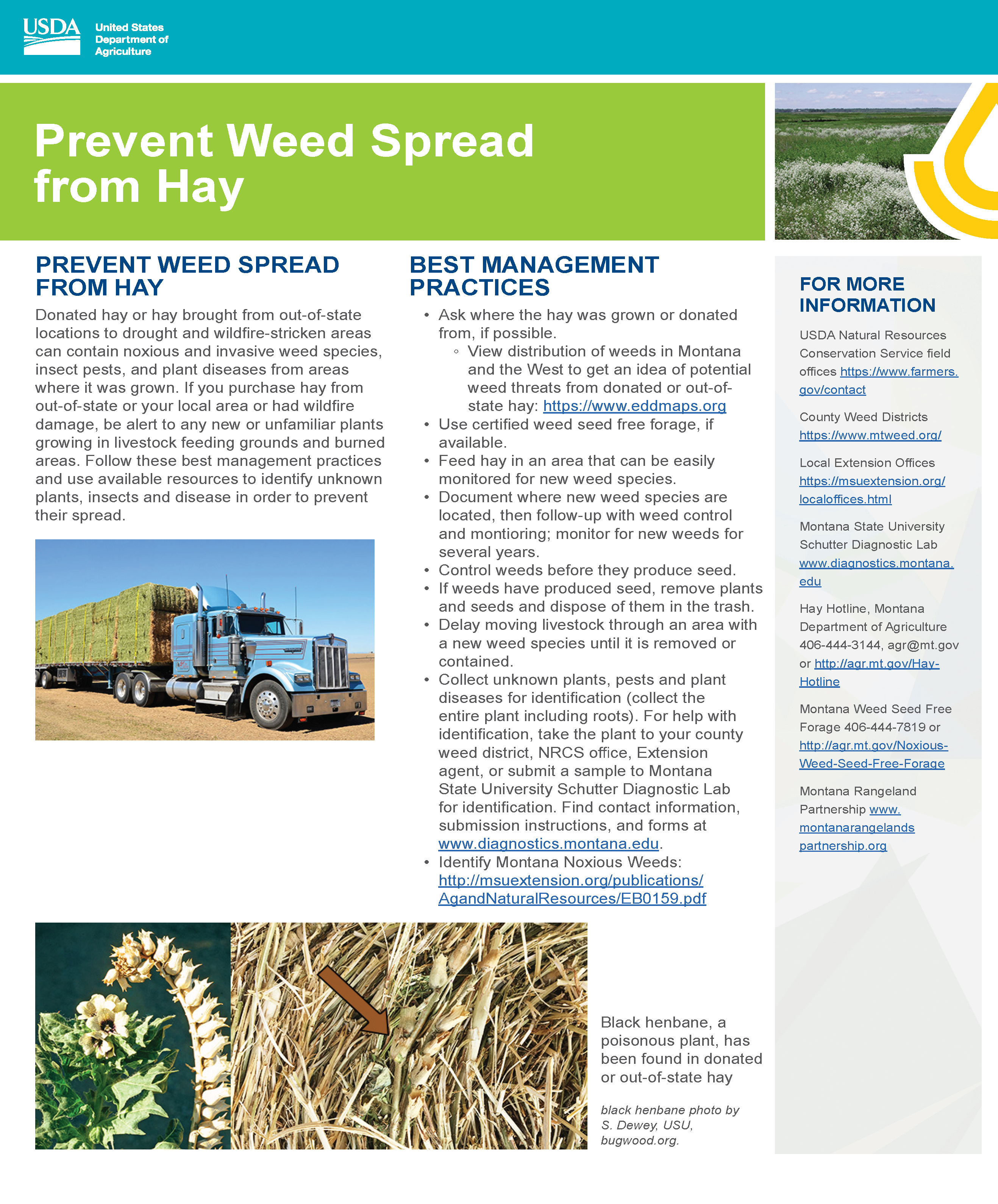 As Montana agricultural producers strive to find adequate feed for livestock during severe drought conditions and a damaging wildfire season, the Montana Department of Agriculture encourages producers to follow guidance and utilize available resources for out-of-state shipments of hay to prevent the spread of noxious weeds and other invasive pests.
Important Reminder: Hay from other states may contain noxious and invasive weed species, insect pests, and/or plant diseases. 
The MDA Noxious Weed Program is available to assist producers in their decision to use hay from out of state. Please reach out to Jasmine Chaffee, State Weed Coordinator, at (406) 444-3140 or JChaffee@mt.gov, or coordinate with your county weed district to discuss best practices and monitoring strategies.
The Montana Department of Agriculture's Hay Hotline is an online portal where producers can donate, buy, or sell hay. Individuals needing donated hay or producers wanting to donate hay can go to the portal using the button " Go to the Hay Hotline Application Now" and create a listing by selecting "Create an Account". Once created you will have access to "My Hay listings." Individuals can also search existing listings to see what is currently available.
Disclaimer
The Montana Department of Agriculture maintains this list as a service to the Agricultural industry and particularly to those in need of hay and those who have hay to supply. The department maintains this list and makes it available with the expectation that all buyers and sellers will treat each other in an equitable and lawful manner. The department makes no representations, express or implied as to the amount, kind or quality of hay listed or as to the character of the participants.
Hay Hotline FAQ