Farmers Markets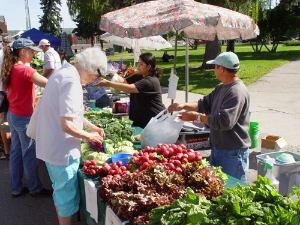 Farmers markets play a valuable role in promoting healthy communities in Montana. While shoppers enjoy the freshness and taste of locally grown foods, and vendors capture more of the value of their products from direct sales to their customers, money is circulated through the local economy.
Use the tabs below for additional resources for farmers market managers and vendors. For additional assistance, contact us.
Download the Montana Farmers Market Directory.
There are also great market listings available on the Montana Department of Commerce VisitMT.com site and the Abundant Montana Directory. If you are interested in starting a market, refer to Starting a Farmers' Market in Montana, a guidebook from NCAT, AERO and USDA. If you manage a market or are a market vendor, find more resources on the Farmers Market Manager Portal from the Department of Agriculture.
2021 Season
Farmers Market Facts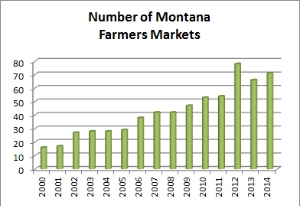 Direct marketing of farm products through farmers markets continues to be an important sales outlet for agricultural producers nationwide. Farmers markets, now an integral part in the urban/farm linkage, have continued to rise in popularity, mostly due to the growing consumer interest in obtaining fresh products directly from the farm. The number of farmers markets nationally grows every year, and this growth clearly indicates that farmers markets are meeting the needs of a growing number of farmers with small- to medium-sized operations.
Number of Montana farmers markets: 71
Estimated 2013 revenue at Montana farmers markets: $1.8 million
Who benefits from Farmers Markets?
Small farm operators: Those with less than $250,000 in annual receipts who work and manage their own operations meet this definition (94 percent of all farms).
Farmers and consumers: Farmers have direct access to markets to supplement farm income. Consumers have access to locally grown, farm-fresh produce and the opportunity to personally interact with the farmer who grows the produce.
The community: Many urban communities where fresh, nutritious foods are scarce gain easy access to food. Farmers markets also help to promote nutrition education, wholesome eating habits, and better food preparation, as well as boosting the community's economy.
Farmers Market News
Contact
Montana Rules and Code: Farmer's Markets